How to shop our shop
Table of Contents
---
This is the product page structure of Kyoto Kimono kohbou.
The composition of the product page is as follows.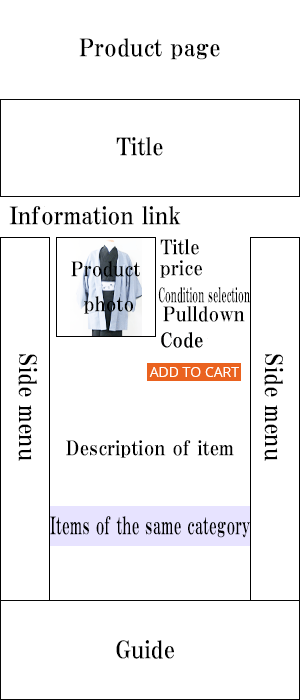 Shopping flow
How to order
Please select the quantity on the item page and click "ADD TO CART" for the order.
For your desired tailoring / post-processing, please select the processing after hoping and click "Add to Cart".
The display price will change depending on post-processing.
tailor-made tailor is also possible.
Mail · Order Made Paper (Please fax later) · Please specify in the comment column when ordering.
Tailor-made Tailor Paper (Download) → For men → for women
If you wish to tailor it please confirm the page of tailoring / embossing .
About tailoring and embossing
Check cart
The contents of the cart will be displayed in a separate window for a while after putting the item in the cart.
After a certain period of time, the window disappears but you can check it from the top of the homepage.
Confirm the contents of the cart, product / post processing / quantity,
Then if there is no mistake of amount etc.,
Please click "Go to order procedure" or "Continue shopping".
If "Continue shopping" is clicked,
You can order additional orders.
Login
For first-time customers, click "Next",
Please fill out the necessary information and obtain the account.
Customers who have an account have an e-mail address and password
Please fill in and log on.
Check cart again
Please make a final check.
Check shipping addressee
Please check the addressee and, if there is a change in the company, you can fill in the new addressee as it is.
Shipping method
If there is a delivery time zone of your desired delivering agent, specify it after using
Please click "Next".
Also, if you have comments, fill it in,
Please click "Next".

Your billing address

Check the billing address and if you do not change please go to the payment method.
If you have changed, please click "Change address"
Please enter your billing address.
※ When you are given a gift, with cash on delivery,
Please be aware that it will be charged to the addressee.

Selection and confirmation of payment method

Price substitution: (cash)
Payment amount = item fee + shipping cost + cash on delivery commission (324 yen)
The fee will be free if you purchase more than 10,000 yen.
Kyoto Bank Transfer
Payment amount = item fee + shipping fee + transfer fee
Kyoto Bank Sanjo Branch (Kyoto ginkgo senjo shiten)
ordinary 119742
Tahara Iku (Kabushikiishisha Taha Ratchi)
Credit card transactions
Payment amount = item charge + shipping fee
Comment etc. Please indicate if you would like to communicate what you would like.
Please confirm "Confirm order" .

Thank you for your hard work. This is the flow of shopping.
Incidentally, such as the use of a dressing, when making a single tailoring, etc.
In addition, when the amount which can not be settled through the site arises, transfer or
We ask you for cash on delivery at the time of goods arrival.

---

shopping guide

Payment - Learn more

Credit card
Price substitution
Bank transfer

About Delivery → Learn more

Shipper: Japan Post
Shipping method: normal delivery / cash on delivery Delivery / free shipping (mail service)
Specification of the time zone: am / 12 o'clock - 14 o'clock / 14 o'clock - 16 o'clock / 16 o'clock - 18 o'clock / 18 o'clock - 20 o'clock / 20 o'clock - 21 o'clock - However at any time according to circumstances Shipping may not be possible. Also free shipping (mail service) can not be specified time.

Shipping → Learn more

Hokkaido, Okinawa ... 1,404 yen
Aomori, Akita, Iwate, Yamagata, Miyagi, Fukushima ... 918 yen
Ibaraki, Chiba, Tochigi, Gunma, Saitama, Tokyo, Kanagawa, Niigata, Nagano, Yamanashi ... 648 yen
Fukuoka, Saga, Nagasaki, Oita, Miyazaki, Kumamoto, Kagoshima ... 648 yen
Toyama, Ishikawa, Fukui ... 540 yen
Shizuoka, Aichi, Gifu ... 540 yen
Mie, Shiga, Kyoto, Nara, Osaka, Wakayama, Hyogo · · · 540 yen
Tottori, Okayama, Shimane, Hiroshima, Yamaguchi ... 540 yen
Kagawa, Tokushima, Ehime, Kochi ... 540 yen
There is also free shipping item = Here free shipping item )

Customers living in remote islands or similar places, Shipping fee may vary depending on the region.
-------- Conditional shipping free --------
If you order over 30,000 yen, shipping fee is free I am allowed to do. Delivery time (It may be different due to some reasons) → more details

In case of non-processing: after ordering and payment, shipping the day or next business day
Tailoring: About one month after ordering and payment
In case of embossing: About 1 week after sending orders and payment
In case of embroidery: About 1 week after shipping and ordering
When combining multiple processes,
The added period is the delivery period of the item.

Returns and exchanges → more details

About returned goods
When returning, please give me within one week after goods arrival.
(Please let me know before returning)
We will be responsible for return shipping fees due to our mistake, of course our shipping fee.
Please bear the remittance charge with customers' return due to customer's convenience in addition to shipping fee and handling fee.
Conditions for return / exchange
Please return in the state of payment when returning or exchanging.
In the following cases, returned goods, exchange, returned goods shipping fee will not be charged.


The item was damaged from the beginning or during transportation.
When a product different from the application arrives.

Sorry for your inconvenience but please contact us within 5 days after delivery.
We collect cargo at COD.
Or we will pick up the fee by COD on the flight you sent.
We will deal with it responsibly.
We can not respond / exchange / cancel in the following cases.

Products processed by customer's request · Products processed by customers.
Product you used once.
Your offer has exceeded a week.
Products tailored according to customer's order (Ready-made item = tailoring is excluded), and it is not a difficulty in a tailored state.
In the case of a commodity specified beforehand as non-refundable.
Sale items.

Please forgive me about cancellation about the commodity (ready-made goods = tailoring excluding) that has begun to be tailored by customer's order.