Shipping & Return & Refunds
Table of Contents
---
About shipping
About shipping fee to in Japan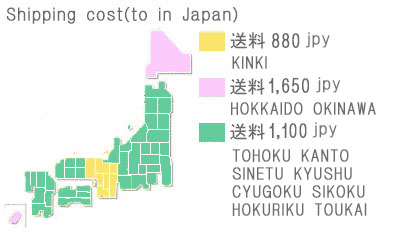 Hokkaido, Okinawa ... 1,650 yen
Aomori, Akita, Iwate, Yamagata, Miyagi, Fukushima ... 1,100 yen
Ibaraki, Chiba, Tochigi, Gunma, Saitama, Tokyo, Kanagawa, Niigata, Nagano, Yamanashi ... 1,100 yen
Fukuoka, Saga, Nagasaki, Oita, Miyazaki, Kumamoto, Kagoshima ... 1,100 yen
Toyama, Ishikawa, Fukui ... 1,100 yen
Shizuoka, Aichi, Gifu ... 540 yen
Mie, Shiga, Kyoto, Nara, Osaka, Wakayama, Hyogo · · · 880 yen
Tottori, Okayama, Shimane, Hiroshima, Yamaguchi ... 11,000 yen
Kagawa, Tokushima, Ehime, Kochi ... 1,100 yen
【Delivery date】
Basically after your order we will ship the next after transfer confirmation, arrival will be about 3 to 5 days after if ship to in japan.
(Our payment confirmation is confirmed after 16 o'clock.)
There are things that are posted on the delivery date in the item column. In that case, each delivery date will be the official delivery date. If the item is out of stock, we will contact you by email.
[Person in charge]
Japan Post
[In case of price conversion]
Cash can be used.
COD fee is 324 yen, it will be free if you purchase over 10,000 yen.
【About time designation】
(Some areas are partially impossible)
Morning (10 o'clock to 12 o'clock)
12: 00-14: 00
14: 00-16: 00
16: 00-18: 00
18: 00-20: 00
From 20 o'clock to 21 o'clock

About Yu-Mail facilities (free shipping)

We will respond to applicable products. This is a commodity item. → free shipping
Furthermore, cash on delivery we can not respond.

You can not issue an inquiry number for Yu-Mail Express.
It takes about 3 days to deliver to you.
Mail will be 1 package with 1 item.
In addition, your luggage will be delivered to the post like a letter,

Big luggage will be delivered without a signature.

---

About returned goods and transport

When returned, please within one week after goods arrival. (Please let me know before returning)

If your miscellaneous mistake is returned, we will be responsible for shipping fee / commission of the customer or specified time shipping (if it is issued) when we sent it.
Please return the goods by customer 's convenience at the customer' s expense. Please note.

Conditions for return / exchange Please return in the state of payment when returning or exchanging.
In the following cases, returned goods, exchange, returned goods shipping fee will not be charged.

If the item was damaged during transportation from the beginning.
When a product different from the application arrives.

Sorry to trouble you, but please contact us within 5 days after goods arrival.
Pickup will be picked up by cash on arrival.
We will deal with it responsibly.

In addition, we do not accept returns, exchanges, or cancellations in the following cases, so we apologize for your reservation.

Products processed with customers' requests or products processed to customers.
Product you used once.
Your offer has exceeded a week.
In the case of a commodity specified beforehand as non-refundable.
If the item tailored according to your order (existing product = not tailored product from the beginning), it is tailored and it is not a difficult material.
Please forgive us about handling of products that started tailoring or processing by your order.

· Contact Kyotokimonokohbou
Kyotokimonokohbou (Tahara One Net Business Division) Kyotokimonokohbou