Payment & Shipping rates to in Japan
Table of Contents
---
Expense besides item price (including processing)
Shipping fee (It depends on the location, details are as follows.)
COD fee / 324 yen (We will bear responsibility in case of total order of 10,000 yen or more)
Bank transfer fee (Customer is responsible)
【About shipping fee】
Customers over purchasing more than 30,000 yen without tax will be delivered free shipping nationwide.
Customers with total amount less than 30,000 yen will be charged extra shipping fee for product price.
postage differs the place where you want to send.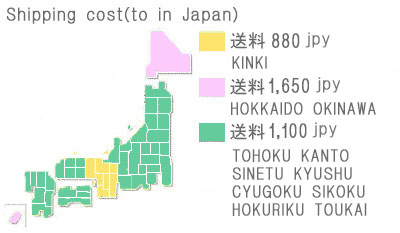 Hokkaido, Okinawa ... 1,650 yen
Aomori, Akita, Iwate, Yamagata, Miyagi, Fukushima ... 1,100 yen
Ibaraki, Chiba, Tochigi, Gunma, Saitama, Tokyo, Kanagawa, Niigata, Nagano, Yamanashi ... 1,100 yen
Fukuoka, Saga, Nagasaki, Oita, Miyazaki, Kumamoto, Kagoshima ... 1,100 yen
Toyama, Ishikawa, Fukui ... 1,100 yen
Shizuoka, Aichi, Gifu ... 540 yen
Mie, Shiga, Kyoto, Nara, Osaka, Wakayama, Hyogo · · · 880 yen
Tottori, Okayama, Shimane, Hiroshima, Yamaguchi ... 11,000 yen
Kagawa, Tokushima, Ehime, Kochi ... 1,100 yen
---
【Delivery trader】
Japan Post
---
【Payment method】
Credit card transaction (SSL / encryption protection)
Bank transfer (we charge you the commission at customer)
Price substitution (cash)
(It becomes impossible in case of tailoring desired)
Delivery in the store is also possible.
---
【Credit card secure settlement】 (REMISE / ssl encrypted communication)












It is secure settlement by GeoTrust and Lumines.
We use encrypted communication (SSL).
Your use is limited to those in your name.
---
【For bank transfer】
You can transfer from any of the following.
Kyoto Bank
Japan post Bank
After ordering with bank transfer designation, we will inform you of the transfer account.
As soon as payment confirms confirmation If processing such as shipping or sewing is necessary, we will process sewing etc.
We confirm payment confirmation after 16 o'clock.
In this case, please transfer within 5 days from the order date.
If it is longer than 5 days will be canceled without permission.
---
【In the case of cash on delivery】
(It becomes impossible in the case of processing after tailoring / embossing etc.)

I am asking you in cash.
Fees will be free if you purchase more than 10,000 yen in total.
If the total purchase is less than 10,000 yen, the price of the
merchandise fee will be charged separately 324 yen in addition to the shipping fee.
---
【About free items that can be shipped free of charge】
Shipping fee will be free with some items.
If you attach it to this one, I hope in settlement other than cash on delivery.
As for the free shipping items, as the inquiry number is not issued
I can not pursue.
In addition, please understand that the tatami wrinkle will increase.
Click here for applicable products → Free shipping items
---
【Delivery date】
Basically we ship after ordering or transfer confirmation, but arrival is about 3 to 5 days later.
(Our payment confirmation is confirmed after 16 o'clock.)
There are things that are posted on the delivery date in the item column. In that case, each delivery date will be the correct delivery date. Also, if the item is out of stock, we will contact you by email.
---
【About time specification】
Morning (10: 00 am - 12: 00 am)
12: 00 am - 14: 00 pm
14: 00 pm - 16: 00 pm
16: 00 pm - 18: 00 pm
18: 00 pm - 20: 00 pm
20: 00 pm - 21: 00 pm

It may not be possible to deliver within the specified time due to the region and circumstances.

· Contact Kyoto Kimono kohbou
Kyoto Kimono Studio (Tahara One Net Business Division)
Kyoto Kimono kohbou