About Kyoto Kimono kohbou
Table of Contents
---
store name
Kyoto Kimono kohbou( In-store appearance (Street View) )
Operating company
Tahara ichi Co., Ltd.
Purport of the site
Mail ordering of kimono / Japanese clothing mail order or selling kimono / Japanese clothing related products
Information on real shops (whosale maker / kimono sale) - Samples are as follows.
Address
〒 604 - 8206 Machigasira-cho104,Nakagyo-ku,Kyoto-city,Kyoto-prefecture,Japan (Map · Wide Area)
Public transport nearest station
Kyoto Municipal Subway (Karasuma Line / Tozai Line) About 5 minutes on foot from Karasuma Oike Station
From the Kyoto station by the subway Karasuma Line 3 stations in the International House Hall
From the JR Nijo station by the Tozai line on the subway Hamajuzu / Rokkisho Line 2 st stop
From the Keihan Sanjo Train Station on the subway Tozai line at the 2nd Station on the Takasaki Tenjikawa Line
15 minutes on foot from Karasuma station on Hankyu Kyoto Line
From Hankyu Kawaramachi station by Hankyu train 1st station in Umeda line
From Kyoto Station by subway Karasuma Line 2nd station in the International Hall
manager manager
Hideki Tahara


Kyoto Kimono kohbou is a shop selling wholesale kimonos in Kyoto.
Mainly washable kimono, washable with silk and underwear and hakama.
Tahara Ichi Co., Ltd., a management company, has been offering customers for wholesalers in Kyoto.
I have been doing business.
However, from the actual user's feelings and talings
From a thought that I felt a distance and I should not stay like this
I started selling the Internet.
Weaving fabrics at once, such as hakama used for graduation ceremonies, like dyeing and sewing
There are goods, but as much as possible, order size one by one, which fits your dimensions
In spite of it, it deviates from the dimensional table, even in case of requesting an arrangement
We respond as much as possible from the size as shown on the size as much as possible.
Also, if you are a so-called model body type with your hand size or TL size, or
There are also products that can accommodate the larger girder person,
Conversely please feel free to contact those of smaller size.
Although it is still growing, please, thank you.
Inquiry
TEL
075-255-7783
(Monday - Friday (business day) within business hours AM 9: 30 ~ PM 18: 00 please)
FAX
075-255-7707
(Monday - Friday (business day) within business hours AM 9: 30 ~ PM 18: 00 please)
(We are accepting 24 hours. Reply will be the next business day.) Request setting of read receipt message please ○ Setting method: Create message → Tools → Check request for read receipt mail )
Business days, hours, holidays
Business days: Weekdays (Monday - Friday)
Opening hours: AM 9: 30 ~ PM 18: 00
Holidays: Saturdays and Sundays Holidays
Gion Festival Vacation (14th - 16th July) Bon Festival (14th - 16th August)
New Year 's Holiday (December 29 - January 3)
I hope your phone will be available within business hours.
We will reply to you e-mail on the next business day, so thank you.
You can send the sample material.(for in Japan)
In this case, please return it.
The return shipping cost at this time should be borne by the customer.
Also, please understand that there are fabrics that can not be sent.
· Contact Kyoto Kimono kohbou
Kyoto Kimono kohbou (Tahara ichi co.Ltd. Net Business Division)
We will send useful information on kimono.
Kyoto Kimono kohbou blog
■ Related site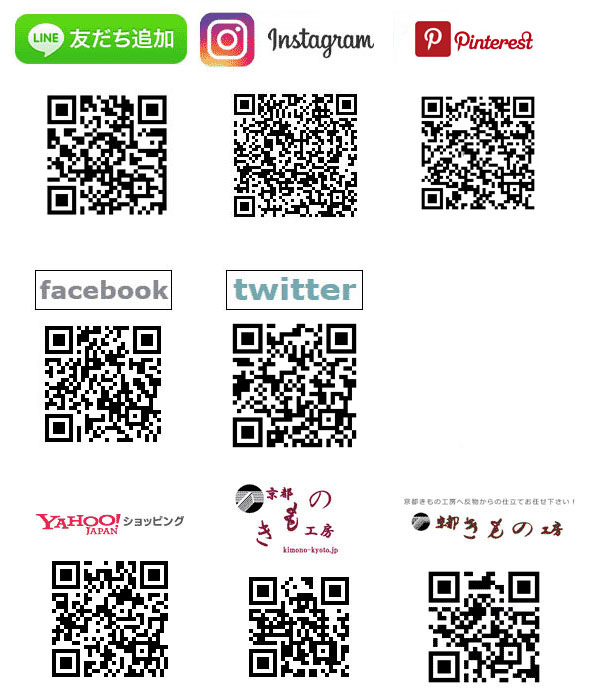 Kyoro kimono kohbou(2nd Store)

Yahoo shopping shop (smart available)

Funny The Kimono shop in kyoto